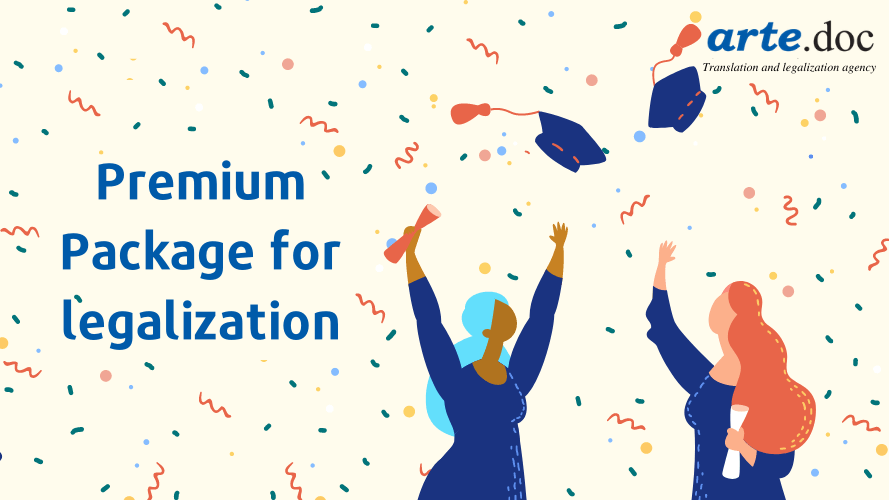 ---
10% off our Premium package for legalization of documents of completed education

Do you need translation and legalization of your education certificates? Are you planning to apply in a university abroad and need translation and legalization of your diploma? Do you want to receive quality service without wasting time?

We are here to assist you in the translation and legalization of your education and qualification certificates, diplomas, academic transcrips, etc. and in June you get the Premium Package for legalization of Bulgarian educational documents with an additional discount of 10%.

Our Premium Package includes apostille of the document and legalization of the translation. The package also includes all state fees, 25% discount for the package, as well as 5% discount on the price of the translation, as well as

reduces the timeframe for execution by 8 working days

. And in June you will receive all these bonuses with an additional 10% discount.

By getting the Premium Package in June 2021, you'll receive the following benefits:
• you'll save time and effort;
• you'll avoid unneccessary trips to offices and institutions;
• you'll save money.

With our system of 3 safe steps for online orders you can:
1. Submit your document for translation and legalization online;


2.

Calculate the price and make a secure payment;


3.

Receive your documents in the most convenient way for you.

* Important! The original of the document is required for legalization. You can bring the original to one of our offices or send it to us by courier.

The additional discount, valid in June, will be charged by an operator after submitting the online order.