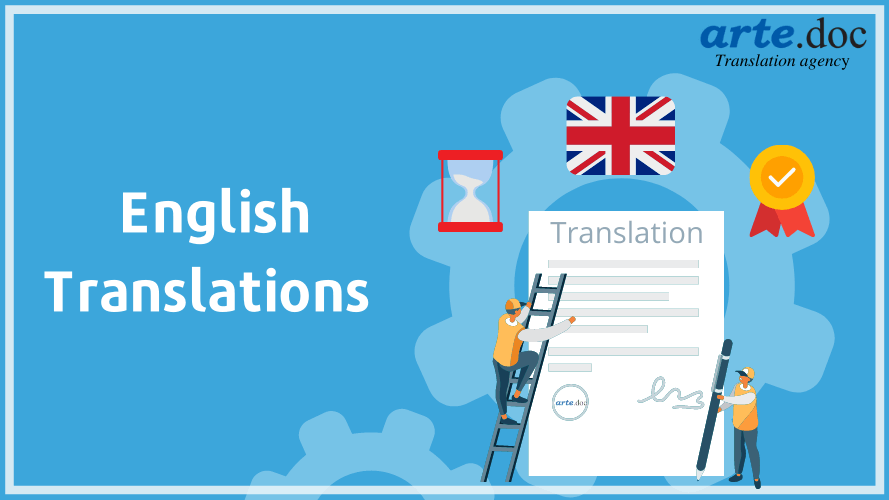 You need a translation of your documents from English to Bulgarian? You will travel abroad, and your documents that have been issued here need to be translated into English? You are signing a contract with a Bulgarian and you need an authorized English interpreter?
English is the most widely spread language, spoken as a mother tongue or as a second language by more than 1.5 billion people worldwide. It is the official language in more than 65 countries. It is, however, not official in Bulgaria, so all foreign documents need to be translated into Bulgarian, and vice versa. That is why English is also one of the most popular translation languages here, but not only.

Thanks to our 21 years of experience, we provide you with quality translations from and into English, always respecting the deadline and your confidentiality.


What makes our translation service different?
---
For English translations, we work with a team of in-house translators who are available to respond quickly and translate even your most urgent documents. We also have a base of over 600 English translators throughout Bulgaria and the world, thanks to our membership in various European and world translation organizations.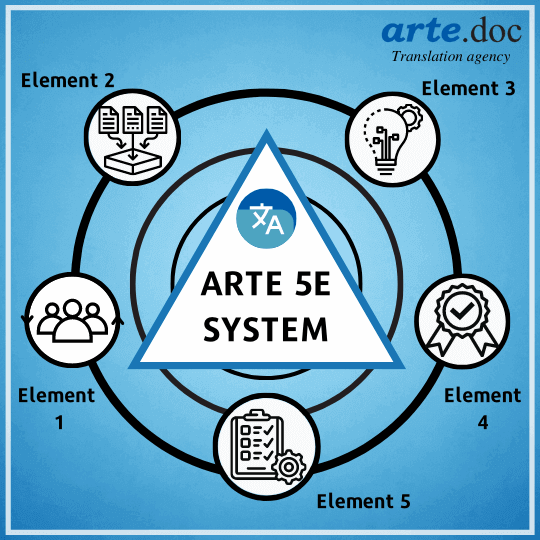 Also, based on our many years of experience, we have created and developed our ARTE 5E system "Guaranteed Quality Translation".
The system consists of 5 elements, and by applying each of them we guarantee you compliance with the agreed deadline, delivering a quality translation and maintaining the confidentiality of information.
The wide spread of the language, combined with the rich experience of our expert linguists and our built terminological database, lead to significant benefits.
And they are the following:
Extremely fast response with presenting an offer when a request is submitted.
Forming teams of translators, specialists in the specific field you need—legal, technical, medical, etc.
If needed — translation of voluminous documentation in short terms.
Guaranteed QC Method—review and subsequent editing of the translation by an editor, a specialist in the specific field.

Editing or proofreading of the text by a native English translator.
Steps in translating from and into English
---
For all translations from and into English, we follow a specifically developed process.

The first element of our ARTE 5E system "Guaranteed Quality Translation" is the selection of the most appropriate translator or translation team with English language and expertise in the necessary specific terminology.

After the translation has been performed, the document is reviewed by an editor who guarantees the consistency of the terms and phrases, as well as ensures the lack of any grammatical, spelling or syntactic errors.

The editor in turn passes the document to the manager, whose task is to ensure that all your requirements are met before sending or submitting the finished translation.

Deadlines
---
For translations from and into English, we offer you three different time options for performing the service:
Standard order

—Translating up to 7 translation pages of text in 48 hours, or 2 (two) working days. When placing an order, our representative will notify you of the specific deadline for your translation.


Fast order—Up to 5 translation pages of text are translated in 24 hours, or within 1 (one) working day. If you need a fast translation of more than 5 pages, we recommend that you consult our representative.


Express order—Translating up to 5 translation pages in up to 2 astronomical hours. For express translation you need to consult with our representative, who can confirm our ability to fulfil the order.
Free consultation by phone: +359 896 731 605 or by email:

This email address is being protected from spambots. You need JavaScript enabled to view it.

.
Deadlines are calculated for a translation by one translator. If you want to shorten the time for your translation, a team of translators can work on the translation.

Translation price
---
Prices for translation from and into English per page can be found in our section Services and Prices .The English language is put in the I-st language group.

Translation from and into English is priced per translation page. According to БДС EN ISO 17100, one translation page equals 1'800 characters of ready translation, with all spaces and punctuation included.

Due to the differences in word length and syntax between Bulgarian and English, there may be a discrepancy in the number of pages of source text and ready translation.

To check approximately how many pages your document is, you can look in Word -> Word count -> Characters (with spaces). Divide the number of characters by 1'800 and you get the approximate number of pages.

If you have the document only on paper and you are not sure of its volume, our experts are at your disposal to assist you and inform you about the approximate volume and price of your text.

Read more about calculating your translation in our article What is a Translation Page.


How to order a translation from or into English?
---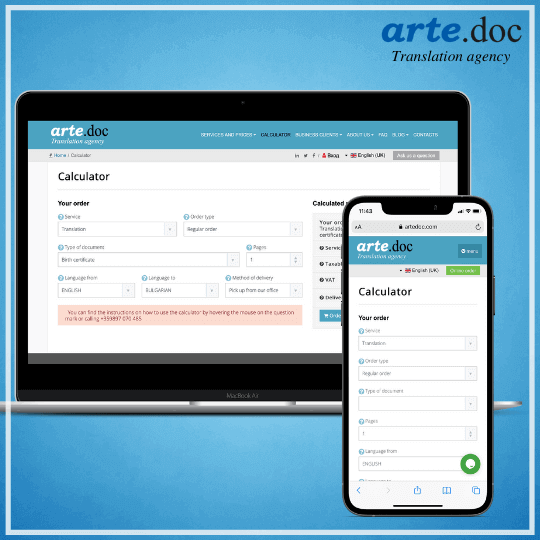 In order to save time for you more important tasks, we created our Online Translation Order platform with a calculator. This way you can order your translation from anywhere in the world, at any time and from any device — laptop, tablet or smartphone.

Quickly and easily in 3 steps you can order your translation from and into English, choosing your preferred method of receipt—by email, from our office or by courier. You can also choose the most convenient payment method for you.

We are at your disposal for a free consultation and assistance by phone: +359 897 070 485. Read which are the three steps for placing an Online Translation Order here.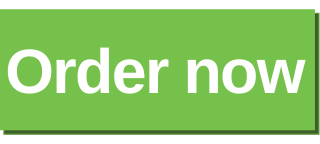 Additional services from and into English
---
Interpreting
In addition to translation, we can provide you with interpretation from and into English in all the different types:
Consecutive

Simultaneous

Accompanying interpretation

Interpretation before a notary

Online interpretation

Regardless of where in Bulgaria you need interpeting with English, we will provide you with the most suitable interpreter for your needs.
For interpreting from and into English we have the opportunity for a quick and express reaction - on the same or the following day.

Read all you need to know about the different types of Interpreting here.
In addition to translation and interpretation, we can offer you the following services from/into English
:
Editing of company texts, advertising materials, presentations

Website translation and localization

Transcription and subtitles

DTP (Desktop Publishing)

And our latest service—Subscription for translation of periodic web content
We are at your disposal to solve any translation case from and into English that you might have! Contact us for a free consultation by phone: +359 896 731 605 or email:

This email address is being protected from spambots. You need JavaScript enabled to view it.

.