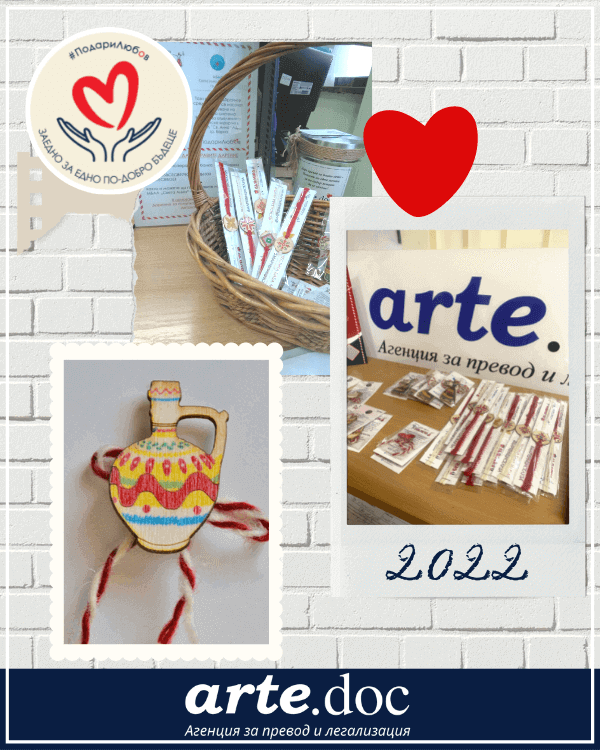 For a third year in a row, we from translation agency arte.doc are happy to join the charity campaign "Martenitsi with a cause".
The campaign is organized by the Folklore Dance Club "Enyovche" and the organisation "Give Love".

Martenitsa is part of a Bulgarian tradition, celebrated on the 1st of March - Baba Marta (Granny March). On this day, bulgarians give each other bracelets or brooches made of red and white thread - symbols for health, happiness, the end of winter and the coming of spring.

The funds raised from the sale of martenitsas will be donated to the Department of Pediatric Surgery at "St. Anna " hospital in Varna. The department needs to purchase a FIRE-XEL laser system, which will make it possible to perform minimally invasive surgical interventions.

You can join the campaign by buying a martenitsa from our offices in Sofia, or by supporting the campaign on the Facebook page of the organizers here - https://www.facebook.com/podari.lubov.2020

The martenitsas are handmade by dancers and friends of Folklore Dance Club "Enyovche" and are made of wood and wool. This year, the organizers have yet again made different models of martenitsas with traditional Bulgarian motifs.
The price in our offices is 3 BGN/piece.

Translation agency arte.doc is a guarantor that the amount, collected from the purchased martenitsas in our offices will be transferred to the organization.