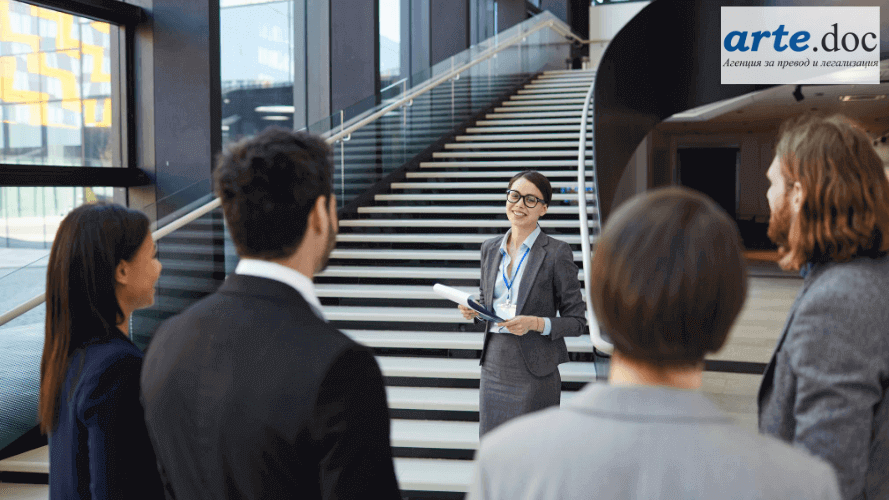 When is escort interpreting used?
---
Do you need foreign guests accompanied on the territory of Bulgaria? Do you need interpreting for your business meeting or visit to various work sites? Your future relatives are on from another country and for an important personal event (engagement, wedding, christening) you need a companion using a foreign language? Escort interpreting is used for these purposes. You will find more useful information in this article.

Escort interpreting is not easily framed and cannot be accurately determined. This type of interpreting changes depending on the event and the situation for which it is used.
What is escort interpreting?
---
Due to its informal nature, escort interpreting can be a mix of consecutive and simultaneous interpreting, at some times – simultaneous (without additional technical equipment), at others – consecutive interpreting.
In fact, for this type of interpreting, the interpreter accompanies the client during various events and assists with interpreting either all the time or only when necessary.
What is most important for escort interpreting?
---
The most important thing in this type of interpreting is the assistance you receive from the interpreter all the time they are with you.
The interpreter does not only interpret, they assist, direct and help the client in an unfamiliar environment.
The ideal interpreter is not only a linguist, they are most importantly a professional in the field and is very well acquainted with the environment you find yourself at and any confusion you might run into.
For whom is escort interpreting most suitable?
---
Suitable for one client.

Suitable for a small group of people, a family, a team, colleagues (2-6 to 10 persons)

Suitable for clients who are not fluent in the foreign language and need assistance in the local environment.
When is escort interpreting needed?
---
This type of interpreting is most often used during events of different scale of an international nature - meetings, seminars, etc., for professional travel, business meetings, family meetings, accommodation. Or when conducting tours with additional sightseeing.
A useful checklist for escort interpreting
---
When organizing an event or planning a program for your foreign guest (s) and you will need an interpreter, consider the following questions:
When will an escort interpreter become necessary?

For how long (in hours) you will need the interpreter's services?

Will you require only one interpreter?

Will there be only one interpreting language, or will you need interpreters with different language combinations?

How specific is the topic of your event?

Will there be additional tours, like a short tour without a guide?

Will there be additional transport, where you would need to consider a seat for the interpreter(s) as well?

In case of an overnight trip, you need to consider accommodation for the interpreter(s).

When traveling abroad, you need to consider transport and accommodation for the interpreter(s).
By answering the questions above in advance, you could make your guests' stay / trip more complete and useful, as well as make your work easier on organizing and coordinating all the key elements for your event.
How we can help for an efficient escort interpreting engagement?
---
Our interpreters are selected based on their language qualifications. We have interpreters on the territory of the entire country.

We have a company system of specific questions in order to determine the exact parameters of the event, the specialized area (if any), the location, the duration, and other characteristics.
We select the interpreters – technical, medical, legal, accounting or different cultural topics, according to our company's procedures and your requirements. Our goal is to offer the best interpreter for your needs.
The experience and qualifications of our experts and interpreters guarantee that there will be no omissions and misunderstandings because it is crucial for your guests to understand everything about the issues being discussed.
We provide an estimate budget for you to consider before you book us.
Our mission is to assist you by providing a high level of efficiency and effectiveness during the event.
What sets us apart?
---
1. Interpreting team selection:
All our interpreters go through a staged approval process. Therefore, we guarantee that the services of our interpreters will be professional and of high quality.
2. Pricing policy:
We are also distinguished by the fact that we have a transparent price list on our website www.artedoc.com, which we always observe.
3. Confidentiality of the provided information:
We have a policy in place to ensure the confidentiality of the information you provide to us before and after the event.
In addition we can offer:
---
1. Organizing transport for the interpreters.*
2. Organizing accommodation for the interpreters.*
3. Estimate calculation of the duration of interpreting (in hours) – estimate budget.

*We can offer these services for your guest(s) as well.
If you need interpreting services, you can contact us for a free consultation at +359 894 427 109 or at

This email address is being protected from spambots. You need JavaScript enabled to view it.

and we will assist you with your specific needs.
* More information about translation and legalization cases is available in our blog of useful articles here.


* You can read reviews from clients here.
* If you want to receive always current and useful information and special offers directly, please subscribe to our e-mail newsletter here.