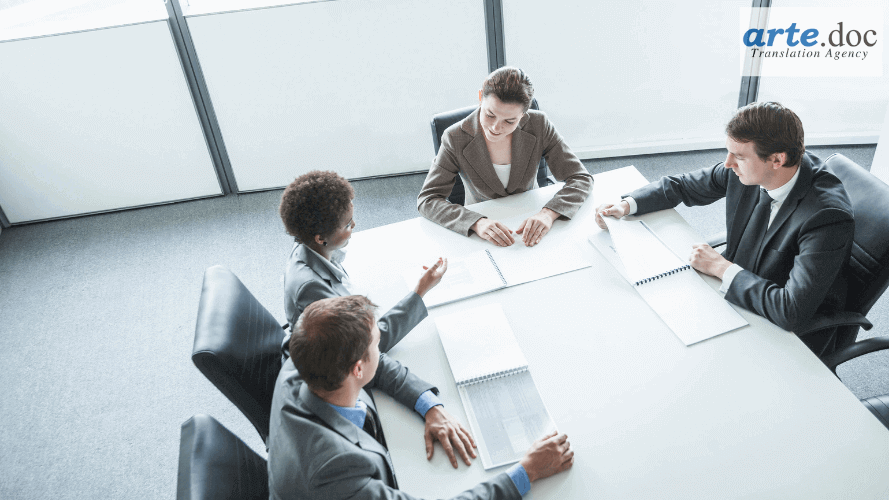 ---
Interpreting is the facilitation of spoken communication between people who speak different languages.
The official definition of interpreting is: Rendering a spoken message into another spoken language, preserving the register and meaning of the source language
There are several types of interpreting:
• consecutive
• simultaneous
• escort interpreting
• interpreting for a Notary Public
For all of them it is extremely important that the interpreter is able to convey quickly and properly the meaning, tone and intent of the original message into the other language.
In this article, we will give you useful information about one of the main types of interpreting – consecutive interpreting.
Other types of interpreting are Simultaneous interpreting, Escort interpreting and Interpreting for a Notary Public.
You can read more about them here.
What is consecutive interpreting?
---
Consecutive interpreting is interpreting with waiting. The speaker finishes a sentence or paragraph, and the interpreter starts speaking after the speaker has paused.
It is important that the client and the interpreter agree in advance how often the pauses will be taken – at shorter or longer segments, in order for the interpreting to run smoothly.
During consecutive interpreting with shorter segments, the interpreter listens and then interprets from memory.
During consecutive interpreting with longer segments, the interpreter can take brief notes to help with memorizing the text to be interpreted.
Consecutive interpreting allows for interpreting complete thoughts and sentences, not fragments, which results in more exact and clear interpreting, compared to simultaneous interpreting.
However, consecutive interpreting takes more time, due to the necessity of waiting and pausing.
Which events are suitable for consecutive interpreting?
---
Consecutive interpreting is suitable for formal and informal events. The main consideration is that this type of interpreting is appropriate for meetings and events with a limited number of participants.
For example, during business negotiations, public lectures, webinars, trainings and conferences with a small number of participants, including medical and legal consultations.
Consecutive interpreting can be carried out by one interpreter or a team of two interpreters.
It is common practice for the interpreter to stand or sit close to the speaker during the event.

How we can help if you find yourself in need of consecutive interpreting?
---
We at Arte.doc Translation Agency offer interpreting services in the four main types – consecutive, simultaneous, escorting and for notarization purposes.

We select interpreters according to your instructions and requirements. Our goal is to find the best interpreter for your needs.
We have a system of specific questions, which define the parameters of the event, for the purpose of clarifying the number of interpreters needed and the duration, and thus setting an estimate budget for you to consider before you book us.
We guarantee quality performance of the engagement, prompt reactions and professional attitude from our interpreters, therefore providing you with assurance and peace of mind during your event
What sets us apart?
---
All our linguists go through a two-step approval process:
The first step includes document assessment– diplomas, certificates, etc., certifying the completed education and/or acquired professional qualification.
The second step involves a practical test (test of skills and experience through trial interpreting), with a team of our long-term interpreters.
Therefore we guarantee that the services of our interpreters will be professional and of high quality.
We are distinguished by the fact that we have transparent prices on our website www.artedoc.com, which we always observe.
We have a policy in place to ensure the confidentiality of the information you provide to us before and after the event. Our managers and linguists sign a privacy statement for each project.


If you need interpreting services, you can contact us for a free consultation at. 0894 427 109, email:

This email address is being protected from spambots. You need JavaScript enabled to view it.

or message us in our online chat HERE and we will assist you with your specific needs.

* More information about translation and legalization cases is available in our blog of useful articles here.
* You can read reviews from clients here.
* If you want to receive always current and useful information and special offers directly, please subscribe to our e-mail newsletter here.