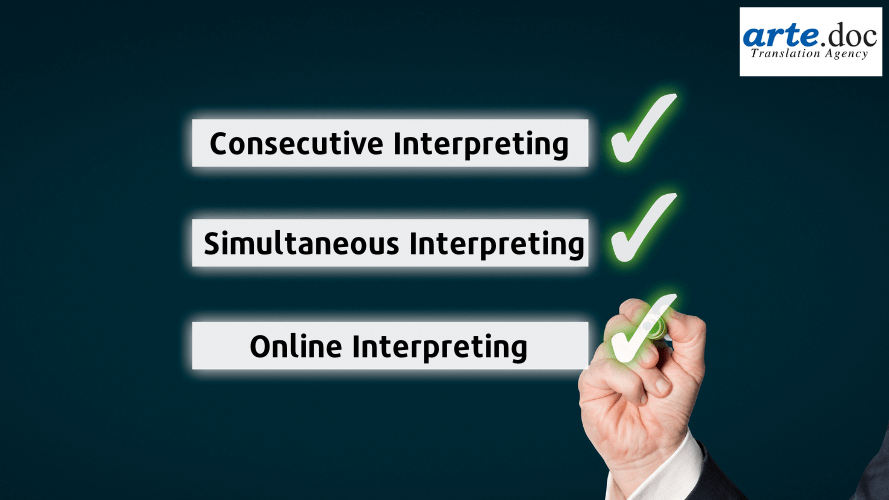 You are organizing a meeting with foreigners in attendance, like a business meeting or conference? You are meeting foreign business partners, and you need assistance? You are organizing an event with important guests who do not speak Bulgarian? You are conducting a training with a foreign lecturer on the introduction of new technologies in your production? You are signing a deal for the purchase of property with a foreigner before a Notary Public?
For these cases, as well as others, you need an interpreter.
You can often have the following problems when in need of interpreting services:
Confusion about the type of interpreting you need;

Wading through a stream of proposals from translation agencies with an inquiry form for which you need to wait for an answer and not receive information at the moment

Uncertainty about how to select an interpreter.

Lack of confidence in the selected service provider;
What are the main types of interpreting?
---
Consecutive interpreting – read more information here (линк към статията)

Simultaneous interpreting – read more information here (линк към статията)

Escort interpreting

Interpreting for a Notary Public
For each of these types of interpreting, you can choose to trust a freelance interpreter or a translation agency which offers interpreting services.
How to choose the right interpreter?
---
The most important criterion when choosing an interpreter is proficiency in both languages. The interpreter must be aware of the linguistic nuances of the languages, and any existing dialects and regional differences in the language.
What skills should an interpreter have?
---
There are three main skills required for a good interpreter, besides the proficiency in both languages.
Active listening (Understanding)

Information analysis

Recreation (Communication)
The interpreter must be able to listen actively. Interpreters listen differently, as their purpose is not to respond to what is heard or to participate in the conversation, but to recreate it accurately and authentically in another language.
Analysis or note-taking is necessary for consecutive interpreting. It is important that the interpreter is able to prioritize, distinguishing between primary and secondary information. In this way the interpreter can take brief notes not to read, but to help their memory along while speaking.
During simultaneous interpreting, the interpreter must have the unique ability to listen carefully while interpreting in order not to fall behind the speaker. This requires from the interpreter the ability to largely predict what the speaker is going to say, so that the listeners can hear the interpreted speck as closely to the original as possible.
The third and last action of the interpreter is recreation. This requires good short-term memory, understanding of the notes and good communication skills.
A crucial aspect of interpreting is that the interpreter be able to reproduce the speaker's speech as if it were their own - maintaining a natural rhythm of speech, but at the same time preserving the tone and manner of the speaker, in order to accurately convey their intention.
How we can help if you find yourself in need of interpreting services?
---
We at Arte.doc Translation Agency offer interpreting services in the four main types – consecutive, simultaneous, escort, notary public.

We select interpreters according to our company procedures and your requirements. Our goal is to offer you the best interpreter for your specific needs.

We have a company system of specific questions in order to determine the exact parameters of the event in order to clarify the number of interpreters necessary, the venue, the duration of the event, the audience, the number of speakers, equipment supply (booths, number of earpieces, microphones, etc.), available materials on the topic, security level, style, and other characteristics of the event.

We provide an estimate budget for you to consider before you book us.

We guarantee quality performance of the engagement, prompt reactions and professional attitude from our interpreters, therefore providing you with assurance and peace of mind during your event

Our mission is to assist you by providing a high level of efficiency and effectiveness during the event.
What sets us apart?
---
Interpreting team selection:
All our interpreters go through a staged approval process.

The first step includes document assessment– diplomas, certificates, etc., certifying the completed education and/or acquired professional qualification.
The second step involves a practical test (test of skills and experience through trial interpreting), with a team of our long-term interpreters.
Therefore, we guarantee that the services of our interpreters will be professional and of high quality.


Pricing policy
We are also distinguished by the fact that we have a transparent price list on our website www.artedoc.com, which we always observe.


Confidentiality of the provided information
We have a policy in place to ensure the confidentiality of the information you provide to us before and after the event.


Our managers and linguists sign a privacy statement for each project.
If you need interpreting services, you can contact us for a free consultation at. 0894 427 109 or message us in our online chat HERE and we will assist you with your specific needs.

*More information about other issues, related to translation and legalization are available in our blog of useful articles here.
*You can read reviews from clients here.
*If you want to receive always current and useful information and special offers directly, please subscribe to our e-mail newsletter here.