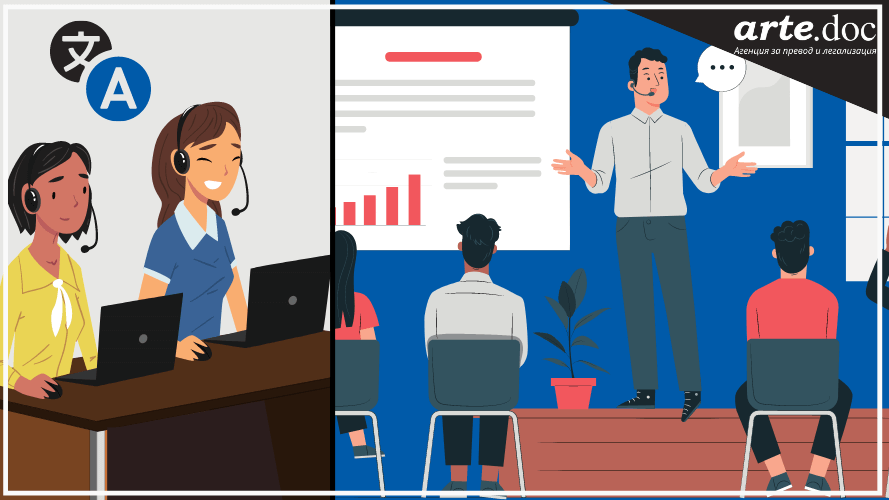 More than a billion and a half people around the world speak business English. In many international companies, it is imposed as official for internal communication between departments and employees

Conferences, seminars, and trainings in international teams are most often held in English.

But is this productive enough? When the trainer speaks a language other than the trainees' mother tongue, is what is said fully understood? Is the motivational speech of the manager inspiring for people who understand only 30% of it? — Of course not.

"When the training is in English, I understand most things, but I'm ashamed to ask questions because I don't speak well and I don't want to expose myself", said an employee of a large international company.

"Our company lost a deal for over a million because we failed to convince a potential client of the benefits of our product in the English presentation. It turned out that the negotiators sent did not speak the language fluently."

Stories like these can be told by thousands of managers, employees, directors…


Is there a way to avoid the losses from bad interpretation, the low rate of effectiveness of staff trainings, misunderstandings due to different cultures, lost benefits?

Yes—you only need to trust the services of a professional interpreter or agency that provides simultaneous interpretation services.

What is simultaneous interpreting?
---
This type of translation is also known as conference interpretation and occurs at the same time (simultaneously) as the speaker's speech is running. That is, every word is instantly translated by interpreters.

For example, thanks to simultaneous interpretation, all MEPs in the EU hear in their headphones foreign MEPs' speeches in their native language at the moment and can take a stand on legislative initiatives. Again, in their native language.

This is one of the peculiarities of simultaneous interpretation—it requires equipment (headphones, microphone, translation booth) to be convenient for both the interpreter and the people who listen to the interpretation.

Another feature is the need for a team of at least two interpreters—this is necessary because with simultaneous interpretation, the interpreter does not have the opportunity to rest. At all times, interpretation must reach the listeners immediately.

With the advancement of technology and the forced transition of business events to an online environment due to the pandemic, simultaneous interpretation can now be done online. In this case, it saves on equipment such as headphones and microphones, but requires the use of software that allows you to listen to different speakers in one online event.
You can learn more about the service of Online Interpretation here.



In what situations is it good for business to rely on simultaneous interpretation?
---
International conferences
The use of simultaneous interpretation during international events, in addition to facilitating understanding, also shows respect for the country and the origin of all participants.

During such conferences, the organizers most often hire different teams of simultaneous interpretersfor the different languages spoken by the audience.

If you have such an event, you can look for separate interpreters for each language or trust a translation agency to provide you with the necessary interpreters in all language combinations.

We at Arte.Doc work with interpreters from in more than 36 languages. And for your convenience, we can assist you in organizing the equipment for your event.



Seminars and presentations
If you want to see your best salespeople or presenters in their best light, give them the opportunity to present in their own language and provide simultaneous translation for the audience.

When a person speaks in his native language, he is more convincing and inspiring. His body language radiates confidence and calm because he does not think about possible mistakes in speaking a foreign language.

Thanks to the simultaneous interpretation, the audience will hear in their headphones a correctly conveyed emotional message and will feel the energy of the presenter without the language barrier.



Company trainings and briefings
If your company has offices scattered throughout Europe or the world, and you need to conduct company training or briefing to work with new equipment, then one of the possible solutions is simultaneous interpretation.

If you want your employees to fully understand what is expected of them and then calmly apply what they have learned, it is best to provide them with simultaneous interpretation if the training in your company is not in the employees' native language.
When conducting briefings related to work process safety, such an interpretation is already extremely necessary, because it is about the employees' health and lives.



Professional interpreters
---
When it comes to simultaneous interpretation, don't underestimate the team that will do it. Their level of language proficiency must be impeccable, they must be trained in this type of interpretation, and they must be familiar with the use of the technique in the translation booth.

At arte.doc, we have a built-up system for selecting interpreters and well-connected teams that you can count on in any situation where simultaneous interpretation is needed.


Free consultation by phone: 0894 427 109 and email:

This email address is being protected from spambots. You need JavaScript enabled to view it.

.

Together we overcome language barriers!