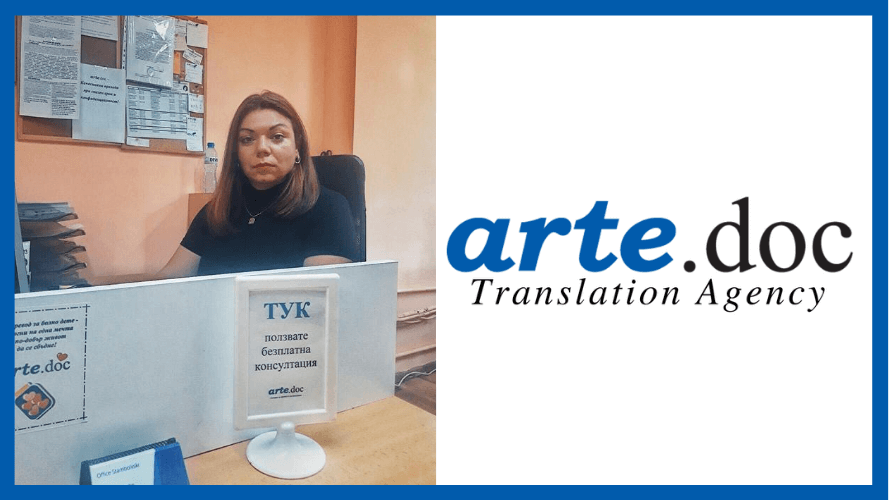 Kalina is an established expert at Arte.doc Translation Agency.
She is a caring mother of a young child and manages to combine perfectly
her job with motherhood.
We are proud to have such a knowledgeable and motivated employee, prepared for every case our clients may bring to her.
You can currently find her in Sofia,
87 Aleksandar Stamboliyski Blvd.
"What I don't do for my clients?"
In this article we will give you the answers to this question from our expert Kalina from the Stamboliyski office.
My name is Kalina Filipova and I have been part of the team of Arte.doc Translation Agency for 5 years. I have worked in the Corporate Clients Department, as well as in the Retail Clients Department. The personal fulfilment from my job is equally strong in both departments, because I receive feedback and gratitude for a resolved case / problem of our clients.
1. I would not mislead the client with inaccurate information, only to take their order at any cost, knowing that the client will be ultimately disappointed. If we can't do it, I don't take it. It is best for both parties not to waste their time.

2. I don't take an order, which we can't do within the client's required deadline. For example, an express translation for 10 minutes, or 50 pages from Turkish to Arabic for the next day. I am always sincere with our clients because I feel responsible to resolve their issue, related to our business – translation and/or legalization of documents.

3. I don't neglect the client's need to receive detailed information before submitting their order. I explain fully, in detail and I deliver current information. There are new regulations being adopted right now for a variety of documents and clients are not obligated to know all of them. This is why our company offers a free consultation.

4. I don't divide my clients into small (a 1/2 page order) or large (over 50/100 page order) – all clients receive the same service. For my professional satisfaction, it is important that the clients come back to me, meaning that I have won their trust.

5. I don't abuse the clients' trust:
• Trust in prices – I don't set prices "at sight". The company pricelist for translation and legalization services is set in advance and available for everyone. You can find the pricelist on our website www.artedoc.com, as well as in every office.
• Estimating the volume – When initially taking the documents, I try to determine the approximate volume, thus the total cost, as closely as possible. One standard page amounts to 1800 characters of the complete translation. Everyone can check with the function Word Count (with spaces)
• Quality – I select the most suitable translator, according to the language and terminology, and the type of the documents.

The most common misconception encountered when working with clients?
A shared example for Kalina's everyday experience:
"From my experience in Arte.doc Translation Agency, I have found out that most people have misconceptions about the legalization service – they believe that it is performed in our office, on the spot.
The legalization procedure is carried out by a government institution – the Ministry of Justice, the Consular Relations Department of the Ministry of Foreign Affairs, or the National Centre for Information and Documentation (NACID). Documents issued abroad are legalized by a notary public.
The procedure takes several days (between 2 and 14 business days). The duration depends on the type of document.
I definitely experience positive feelings when I send for legalization a birth certificate issued abroad or a diploma for completed education from another country of our fellow citizens. Through my work I have a feeling that I contribute to the registration of more Bulgarian citizens and I am glad that the exchange of foreign experience and the application of good practices by young people is increasing."
If you have an issue to be resolved, related to translation and / or legalization of documents, you can contact me for a free consultation at +359 897 070 487 or come to our office at 87 Aleksandar Stamboliyski Blvd., 1st floor.
We won't mislead you!
* More information about translation and legalization cases is available in our blog of useful articles here.


* You can read reviews from clients here.
* If you want to receive always current and useful information and special offers directly, please subscribe to our e-mail newsletter here.